This show has been going on for quite while now, both on tour and in the West End, and there has been talk of going ahead with productions in New York and Australia so I thought it was about time for me to check out what the fuss was about. I discovered this musical demonstrated the aspect that first made me realise the world of musical theatre is the one where I belong, the same sensation I got when I saw the Finnish production of Wicked: an incredible sense of togetherness and an incredible atmosphere.
Dreamboats and Petticoats at The Playhouse Theatre, London
Performance: Thursday 19th April 2012 at 19:30
Seat: Dress Circle (5th row centre), £22.50 (lastminute.com deal)
Cast included: Scott Bruton (Bobby), Harry Neale (Norman), Charlotte Jeffery (Laura), Richie Hart (Ray u/s), Susannah Allman (Sue), Gemma Salter (Donna), Roger Martin (Phil/Older Bobby)
I did not know this would be another one of those jukebox musicals. I generally tend to avoid those because the story lines in them are rarely great and the story line, for me, is one of the most important things in a musical. I suppose that is one of the reasons why I like Chess so much: the story is remarkably complex considering it is a piece of musical theatre. That is also the reason why I did not particularly enjoy We Will Rock You. Of course the singing and Queen's music was great but the story line was far too obscure for my liking. In Dreamboats and Petticoats the story was a standard one with teenagers' love troubles (the geeky girl likes the main semi-geeky guy who likes the popular girl who likes the popular macho guy who seems to be eyeing every girl around him) while at the same time the youngsters are trying their hand at a songwriting competition.
The story is set in the early 1960s and I ended up falling in love with some of the costumes. (I totally want a dress similar to those the girls were wearing!) Naturally the music consisted of hits of the 50s and early 60s. Songs such as Do You Wanna Dance?, Hey Baby and Bobby's Girl were featured. As a consequence, the audience consisted mostly of older people who grew up with the songs and remember them first hand. Of course I ended up sitting close to some old couple who insisted on singing along through most of the second act. This keeps happening to me! People singing along somewhere near me I mean. I can't stand it. Although with jukebox musicals it isn't as bad as it is with something like Chicago for instance (this also happened to me although the culprits were two young ladies). I recognised some of the songs but most of them were unknown to me. However, because I like old music I really enjoyed listening to it. The only drawback was that the singing could not always be heard due to the music being too loud. This was mainly a problem at the start.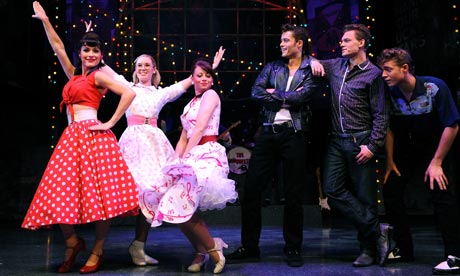 Photo: Tristam Kenton (source)
I had not heard of any of the cast members before. However, I think that made me concentrate on the musical as a whole rather than directing my focus on just one of the actors. I don't think they could have picked a more perfect actress than Charlotte Jeffrey to play the part of Laura. She had a powerful voice despite having a sort of innocent blonde girl look. I also liked Harry Neale as Norman and Susannah Allman did a great job of Sue. One felt sufficient sympathy for Scott Bruton's Bobby. What I loved about him was that he did in no way steal the show despite playing the main character and I think that worked very well.
The most amazing thing was though, one as an audience member could just tell the actors were having a ball doing the show and performing together and the energy spread out to the audience also. As stated, this is the kind of thing that always makes me aware of how much I love musical theatre and why I first began enjoying it. There is a tendency for West End shows to be (too) perfect and have a certain sense of routine (understandable when the same show is performed 8 times a week) which may sometimes alienate the audience instead of truly engaging them. This one didn't come across like that.
I am currently trying to find a date when I could go see this one again. I just have to see it one more time. There are lots of cheap deals currently for Dreamboats and Petticoats as well so I recommend this in particular to theatre-lovers and people who enjoy 50s and 60s music.